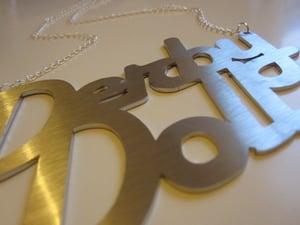 £

15.00
A Frankie and Delilah original.
This is one for all you Roller Derby Gals out there!
If you've got something to say. say it loud!!
This is from a limited run of just 50 pieces. We will not produce this again. So you can be safe in the knowledge that your necklace will be one of only 50 ever made.
The word 'Derby Doll' in 1.5mm thick brushed stainless steel.* Measures approx 12cm by 8cm.
*Looks slightly gold in some pictures, but it is silver.